August is already here, which means parents are celebrating sending their kids to school again. While it might be a joy for most, your French Bulldog, who is used to you working from home and having that full day of attention, might take it a little harder. 
During the summer, if your Frenchie is anything like mine, he get used to lazy days in the sun and lots of cuddles on the couch. The family probably sleeps in a little, the children are home to play and he may have free rein of the house. Once the first day of school arrives, that all ends.That change can be a shock to your French Bulldog's  system. However, it doesn't have to be that way. Prep in advance for the first day, you can ease your dog into the transition.
Get him used to a new routine
One to two weeks before the start of school, introduce the morning routine to your French Bulldog . Set your alarm for earlier than usual and start breakfast. Take him for their morning walk or out to potty but only for as long as you'll let him on a typical school day.By experiencing the daily routine now, he can get used to it gradually while you're still home and it will become easier to introduce their new daily regular schedule. 
Set up an exercise schedule
Your frenchie got used to playing with your kids or you all day. Suddenly being alone in the home, without all that activity, can cause an energetic dog to destroy your household items.To prevent that from happening, set up an exercise schedule.
Make a fun set schedule for your kids to learn responsibility and helping your frenchie to adjust by getting his excess energy out, he'll be more likely to spend the day peacefully sleeping.
Practice with crate during the day 
If you plan on crating your frenchie during school hours , get them used to it in small doses while you're still home. Place a fun toy like a stuffed bone in the crate, and keep him in there for short periods. Also a nice blanket that smells like you or your kids will help with anxiety if the crate is a whole new world for them. Your frenchie will get accustomed his crate and rest in it when the first day of school arrives.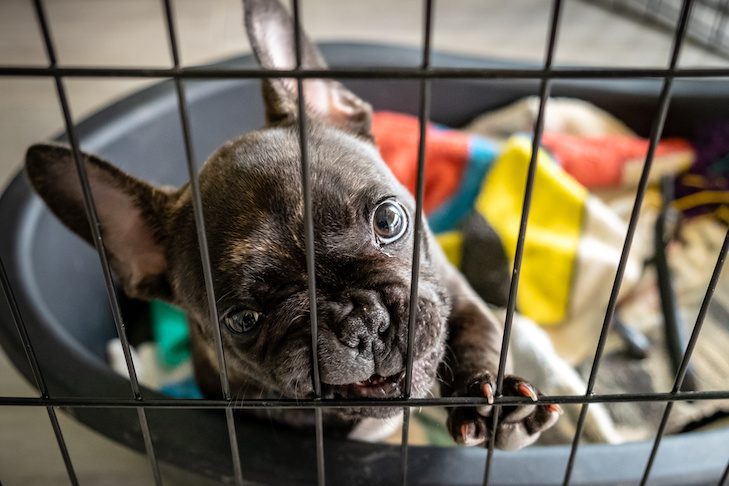 Let them attend drop off/pick up 
If able to, another great thing to help the transition is walking their humans to the bus stop or a ride along for car drop off. This helps incorporate your French bulldog to feel more comfortable with knowing where their best friend disappear to for the day. And even more exciting when it's pick up time!