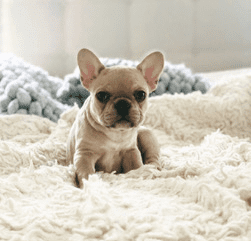 A miniature French Bulldog is the newest trend! Many people adore the French Bulldog but now you can have a pocket size version of the standard French Bulldog breed.  Micro French Bulldogs will weigh no more than 22lbs at full maturity. Although some say it's dangerous to be on the smaller side, they have not met the right breeder to buy from. French Bulldog Texas is the home of the Miniature French Bulldogs where they come REGISTERED with America's Kennel Company. A designer registration that does consider all types of French Bulldogs in order for you to have breeding rights and also know where your Frenchie comes from on the lines on lineage! 
AMERICA'S KENNEL COMPANY 
America's Kennel Company, a designer registration, does consider the Mini Frenchie's an official breed. Having worked along side French Bulldog Texas and their knowledge of breeding them for the last 3-4 years, they have great insight on breeding healthy puppies. It's also a system capable of registering your Frenchie if breeding rights are something that's important to you. You won't this with other breeders unless spending a whole lot more money. Www.americaskennelcompany.com   The mini French Bulldog gives us a heavy boned breed in an even smaller body whilst carrying all of the desirable and charming characteristics of the regular-sized French Bulldog.