Valentine's day is just a couple of weeks ahead when most of us would like to surprise our special persons. Whether you want to buy a gift for your friend, girlfriend, boyfriend, or your Frenchie, these French bulldog gift ideas might help you find inspiration.
Since the time of delivery may last from one to three weeks, it's better to stay prepared for the loveliest holiday in the year.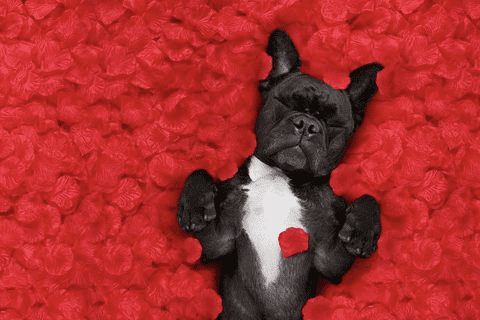 What Are The Best French Bulldog Gifts For Frenchie Moms?
We are sure that Frenchie moms would love to get a gift inspired by their furry batpigs. You can choose between mugs, t-shirts, ornaments, and other items that will remind them of their pets. Out tip when buying a French bulldog gift is to choose a creative and non-boring item.
Instead of buying cute-packed chocolates in the drugstore, try to find a present that will put a smile on your special person's face. 
My absolute GO-TO : IVY LEASH 
https://www.etsy.com/shop/MyIvyLife
The Ivy Leash collection is not just a symbol of luxury, leisure and shiny elegance, but also the unique gift of canine companionship. Show her you care and order in advance! These pieces are top notch quality and will surely make her smile! Always my first recommendation. 
Frenchie & Owner Matching Sweatshirts
Wearing matching sweatshirts can look really cute and eye-catching when you want to have a walk with your little batpig. These Frenchie and mom matching sweatshirts come in many colors and sizes, and present a perfect gift for all those moms who adore their pooches.
https://frenchie.world/products/frenchie-owner-matching-sweatshirts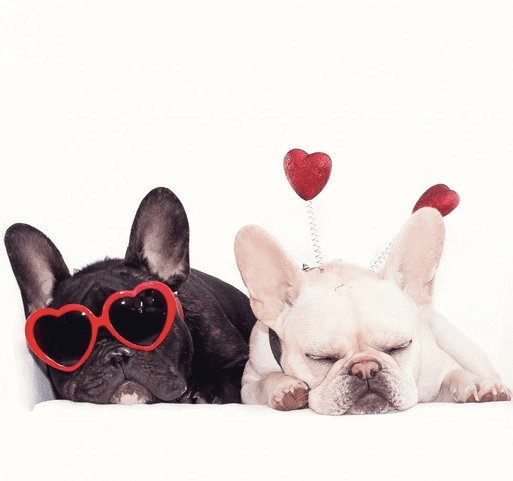 Frenchie All Over Pajama
You can never make a mistake by buying Frenchie pajamas because that's what all of us need. The adorable Frenchies' faces give this pajama a special charm. Your special female person would definitely love to spend lazy weekends with her little pooch by wearing comfy and lightweight sleeping clothes.
https://frenchie.world/products/frenchie-all-over-pajama
French Bulldog Leather Shoulder Bag
Since there is no woman who has ever left the house without her bag, then this French bulldog leather shoulder bag might present the right Valentine's gift. It can be worn both on casual and elegant occasions when you want to break a basic-looking outfit.
Our adorable French Bulldog puppy bag measures 21 cm wide by 19 cm tall and closes with a zipper! It comes with a gold chain attached that measures 40 inches long.
https://frenchie.world/products/french-bulldog-leather-shoulder-bag
Not Today Women's T-Shirt
Who doesn't like long sleeping? A long sleeper's main complaint is that there is not enough time during the day to be awake.. So, if your Valentine belongs to this category, look no more! We all know how much Frenchies adore being couch-potato dogs and spending time doing 'nothing'. Therefore, this t-shirt is made for all those who consider sleeping for the holy part of the day.
https://frenchie.world/collections/french-bulldog-gifts/products/not-today-womens-t-shirt
Frenchie is My Valentine Women's T-Shirt
For all those girls who don't have or want to have their Valentine, we've prepared this cute Frenchie-inspired T-shirt. Of course, since nothing can replace the love you feel for your pet, your Frenchie deserves to be your Valentine this year!
https://frenchie.world/products/frenchie-is-my-valentine-womens-tee
Best Men's Gifts For Frenchie Dads
Where's My Coffee Mug
If your boyfriend's or your friend's first ritual is drinking a coffee, then you gotta buy him this mug. You know those people who look angry at everyone before they drink their first-morning coffee? Well, that's why we decided to make a Frenchie-inspired mug to make those mornings funny and cute!
https://frenchie.world/products/wheres-my-coffee-mug?_pos=6&_sid=fe8617895&_ss=r
Frenchie Bluetooth Speaker
Frenchie Bluetooth speaker is practical to carry around wherever you want. Therefore, we are sure that it will be a great gift for every Frenchie dad. It can't be found in stores and it's available in three colors. 
https://frenchie.world/collections/french-bulldog-gifts/products/frenchie-bluetooth-speaker
Vintage French Bulldog Wall Clock
In case your special person is a lover of music, then this Vintage French bulldog wall clock might present the right choice. It is made of a vinyl music record and comes with LED light and remote controller. The LED light provides 50.000 hours of life and will give a unique detail to everyone's interior.
https://frenchie.world/products/vintage-french-bulldog-wall-clock